UCHKA cosmetics contains valuable hand-made extracts of wild plants, harvested in the most northern Mediterranean region, the Istrian peninsula in Croatia, by a unique method of wild-picking, which makes the products extremely saturated with active ingredients beneficial for the skin.
The manufacturer Mediterra Herbal, the name behind uchka, has designed unique, effective skincare products for everyone who cares about their health and good looks.
uchka is an authentic example of synergy between man and nature, which respects nature's natural rhythms, and presents exclusive autochthonous natural products manufactured in eco-friendly ways.
In our wild-picking processes, we take special care to preserve the fund of biodiversity through the ritual and selective harvesting of wild gifts of nature. Therefore, we highlight this unique feature with the slogan "Istrian Wild Cru."
We are proud to receive the Grazia Best of Beauty award for the most sustainable Croatian beauty brand.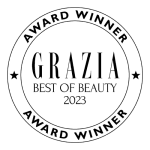 As an environmentally friendly company, our vision and mission presume environmentally safe strategies, processes harmonized with nature as much as possible, responsible business practices, and sustainable future development:
We respect nature and preserve the herbal population's biodiversity and habitat through wild-picking practices.

We reduce biological waste – we use the biological waste from Istrian wine and olive oil producers: grape seeds and olive leaves.

In the preparation of herbal extracts, we use eco-friendly manual processes.

Our products use glass packaging that can be reused and recycled many times. We encourage the return of glass packaging, subject to cleaning, sterilization, and reuse for new products. Customers get a discount on their next purchase for every five packages returned.
All our practices – from harvesting, through shaping, to final product delivery – are unique and reflect an attentively designed synergistic cycle that reflects our relationship with nature.
uchka cosmetics is the essence of nature that reveals Mediterranean micro-locations of mountains Ucka and Cicarija and coastal Cape Kamenjak. We proudly promote distinguished Istrian herbs, vineyards, and olive orchards that provide authentic ingredients of distinctive geographical origin.
Medicinal herbs from the Istrian wilderness, growing in rocks and red soil, exposed to salt aerosols carried ashore by winds, the water from the Joseph II well on Vela Uchka, and sudden weather changes are a part of the dynamics of wilderness in which the natural cycle of the creation of uchka products unfolds. That is where the human hand, guided by knowledge, expertise, and environmentally safe processes, meets nature and transforms nature's treasure into an exclusive and modern line of cosmetic products that lead to a healthier life.
Our dedication to the responsible use of nature's resources, combined with our knowledge and expertise, has enabled us to design transparent, authentic, and responsible practices to assist people in their desire to live a healthy life in harmony with nature!
Skincare is a ritual. Facial skin calls for sophisticated care. Hence, we seek pure, beneficial, and pleasant substances – uchka. Tamed wilderness transformed into refreshing and nurturing facial care.